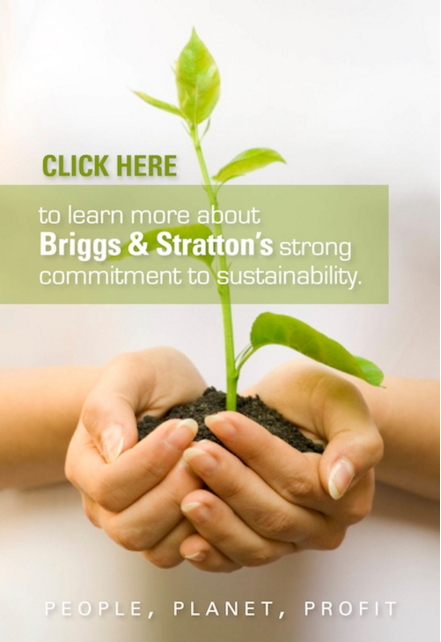 Briggs & Stratton takes great pride in utilizing the Company's three pillars of sustainability:
MAKING PEOPLE A PRIORITY
Taking care of their own employees with competitive salary and benefit packages. Making sure employees feel supported enough to live a healthy lifestyle. Contributing monetarily to non-profit organizations close to the Company's heart and making communities a priority by making time to take care of them. These are all ways that Briggs & Stratton puts people first.
PROTECTING OUR PLANET
Briggs & Stratton has made environmental stewardship a priority – from the significant decreases in product emissions to commitments reducing energy use in our factories. The Company continues practicing this pillar by enhancing manufacturing and corporate operations, as well as working with engineers to produce products that further decrease their impact.
BUSINESS EXCELLENCE
By employing lean manufacturing and business process re-engineering groups worldwide, Briggs & Stratton remains committed to making smart business decisions, further enhancing the Company's longevity.
For more information regarding our commitment to sustainability, view our sustainability report site.
 
Life Cycle Assessment
Briggs & Stratton is using LCA to better understand the environmental impacts of our products so that we can execute improvements that benefit our customers, consumers and shareholders.
Reducing Mower Emissions
Emissions from Briggs & Stratton engines manufactured today average 75% less than 1995 models. In addition, up to half of emissions from outdoor power equipment is preventable.