Re-Lighting Saves Energy
Why energy efficient lighting now?
Which picture shows 60% energy reduction?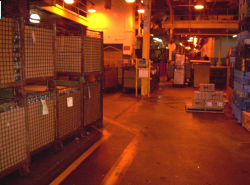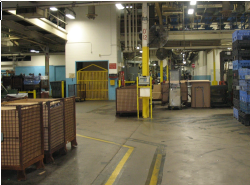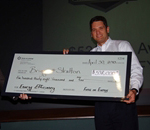 We all know how high the gas prices have spiked in the last year. Just as your personal financing has an energy component, Briggs & Stratton's operating expenses are affected by energy costs as well. One major cost factor is in the lighting for our facilities. As part of our ongoing green initiative, Briggs & Stratton retrofitted our facilities with more energy efficient lighting, which is significantly reducing our energy burden. These lighting projects reduce our carbon emissions by 14,658 tons and save $1,445,000 annually. The electricity saved could power 1,544 homes for an entire year, year after year.
In the past three years, Briggs & Stratton has relit 15 facilities. We are in the process of relighting the Munnsville, NY facility. Later this year Briggs & Stratton will relight the McDonough, GA Yard Power and Menomonee Falls Distribution Center with a few other smaller facilities. Briggs & Stratton replaced over 12,500 lighting fixtures with a payback of just over one year. Here is why:
60% Energy Reduction – Big cost savings and carbon reduction!
93% Return on Investment – That's just good business!
40% Longer Life Bulbs – Less waste & less maintenance!
20% Better Light Levels – Brighter, whiter light = Happier workers!
In addition, over 3,500 motion sensors were installed keeping the lights OFF when not in use.
"It's great to be on board with Briggs & Stratton in these exciting energy- conscious times," said Richard Feustel, Energy Manager. "Not only has the company decreased its energy costs by replacing inefficient lighting, Briggs & Stratton has reduced its greenhouse gas emissions like carbon dioxide and sulfur dioxide as a result of its efficiency gains."
Briggs and Stratton's energy initiatives only begin with relighting. Energy teams are actively working to identify and improve efficiency in energy intensive operations at all of our facilities. These teams meet monthly addressing energy initiatives from high-speed doors in Newbern to improved compressed air systems in Murray and Poplar Bluff to state-of-the-art isothermal metal melting in Statesboro. The mission of our Energy Team is to create value through an integrated energy efficiency program that will drive energy costs out of operations and enhance our brand in becoming environmental leaders.
So which picture above shows a 60% energy reduction? It is the one of the right, the new lighting. If you could not tell, don't worry; the goal was energy savings with as good or better lighting.
Before & After